Meme: 3 cosas que no me gustan y noticias de mis amigos / 3 things that I don´t like and friends news
El roedorino Brownie me ha invitado a realizar este meme. Me viene muy bien, porque necesito desahogarme de forma urgente y no quiero reprimir mis sentimientos... ¡Muahahahahá!
Brownie has invited me to fulfil this meme. I like because I need to express urgently and I do not want to suppress my feelings ... Muahahahahá!
Anita:
1.

Zar (quieres gobernarme insurrecto y no me caes nada bien)
Zar (You want to dominate me and are not nice!)
Zar
2.

I hate to be hungry!
3.

Que mi arena tenga excrementos del insurrecto ¡lo detesto! Y lo demuestro haciendo mis pises por fuera de la caja ¡Muahahahahá!
That my litterbox has Zar's pises and poos... I detest it! And I demonstrate it doing my pees externally of the litterbox Muahahahahá!
ZAR:
Prues yro trambrieén quriero oprinar... ¡Muahrahrahrá!

I want to think too! Muahrahrahrahra!!
1
.
Anitra (se cree la reinra drel mundro y no hay qurién la toqure)
Anitra (She believes that she is the Queen of the World...)

2. Estrar confrinado en unra habritración ¡trengo que drominrar a Anitra!
To be enclosed in a room. I have to dominate Anita!
3.

¡Prasar hambre!
To be hungry!
**********************************
¡¡Feliz Cumpleaños Pelusa y Guille!!
Happy 5th Birthday Pelusa and Guille!!
*******************************
¡Buenas noticias! ¿Recuerdan a Manchita? ¡Ella ya está en casa!!
Good news! Do you remember Manchita and her surgery? She is in her house!
A lot of purrrrrrayers to you...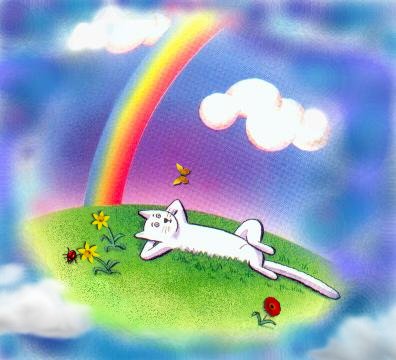 Etiquetas: Amistad, Bitrhday, cattitude, Cumpleaños, Despedidas, dominación, domination, Friends, Genio y Figura, Memes, Rainbow, Tag, ZAR